| | |
| --- | --- |
| | Recipe of the Week |




Jones Catering
123 Main Street
Anytown, NY 20317
USA
(212) 555-4321
(212) 555-1234 fax

Send Us

E-mail

© Copyright 2011
Jones Catering
powered by Website2Go.com
All Rights Reserved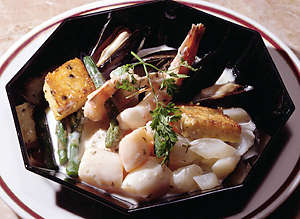 Jane's Grilled Teriyaki Chicken

This one is a winner and a snap to make - and very healthy too!

Ingredients Needed
1/2 cup canned crushed pineapple
2 tablespoons low sodium soy sauce
2 tablespoons water
1 large garlic clove, minced
1 teaspoon mustard
1 tablespoon ground honey
1/4 teaspoon ground ginger
2 skinless chicken breasts with bones, halved

Directions
To make the marinade, combine all the ingredients except for the chicken. Place chicken in a nonmetal pan or bowl along with marinade. Cover and refrigerate for four to 12 hours. Discard the marinade. Grill the chicken for 30 to 45 minutes, turning frequently, until chicken is no longer pink and juices run clear. Makes four servings.

Nutrition Information
Per 1/2 chicken breast:
Calories: 171
Fat: 3 grams
Saturated Fat: < 1 gram
Cholesterol: 73 milligrams
Sodium: 391 milligrams

Tip:
For even faster grilling, pre-cook the chicken by microwaving it for seven minutes at medium-high (70 percent). Turn the chicken over and rearrange. Microwave for another three minutes at medium-high. IMMEDIATELY place chicken on hot grill for eight to 12 minutes, or until chicken is no longer pink inside and juices run clear.